ThinScale Technology listed as 4th in the top 50 of Ireland's fastest growing technology companies at this years Deloitte Technology Fast 50 awards.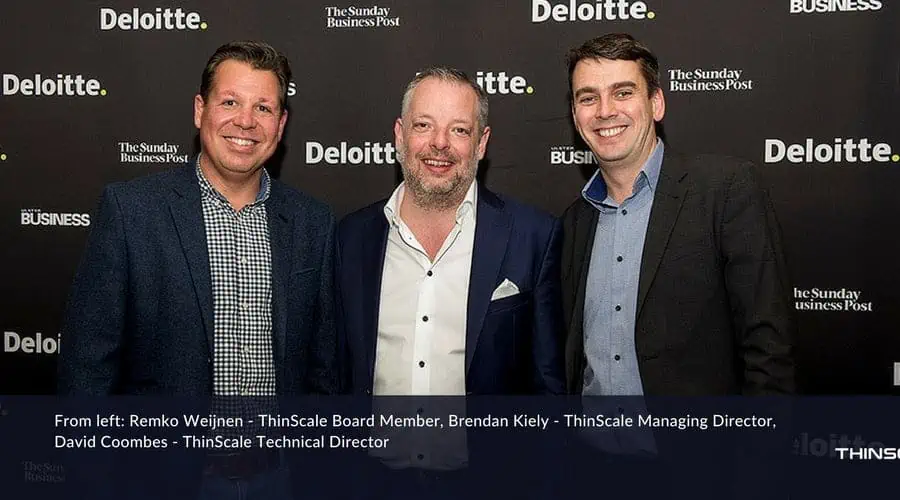 15 employees, 620% growth in turnover in 4 years, 98% export driven sales
DUBLIN, IRELAND – ThinScale Technology, a desktop virtualization software company based in Dublin, has been listed as 4th in the top 50 of Ireland's fastest growing technology companies at this years Deloitte Technology Fast 50 awards. The ranking is calculated based on each company's percentage increase in turnover over the last four years.
An entirely bootstrapped company, ThinScale Technology currently employees 15 people in its offices in IADT's incubator offices, the Media Cube in Dun Laoghaire. Since the company sold its first Enterprise license in 2013 it has averaged 98% of sales as exports and has grown its turnover by over 620%.
With customers across 22 countries including its main markets of Netherlands, UK and the USA, the company is one of the fastest growing players in the desktop virtualization market. The sector is currently worth $8bn and has seen rapid growth since 2012 with the advent of cloud computing. The sector is expected to grow to $13.5bn by 2022 according to research firm MarketsandMarkets.
The company primarily sells desktop virtualization software that delivers performance enhancements, significant cost savings and a better end user experience for companies that have embarked upon a virtualization project.
ThinScale's Flagship product ThinKiosk
Its flagship product ThinKiosk Enterprise converts existing PC's to operate as thin clients and provides an endpoint management platform giving system administrators central management capabilities over their endpoint estate. ThinScale counts the Dutch Government as one of their largest customers with thousands of Dutch public servants accessing their desktop environments using ThinKiosk.
On achieving the ranking ThinScale MD Brendan Kiely said, "Obviously we are delighted with the recognition of our progress and it is a reflection of the hard work our whole team has put in over the last four years". He went on to say, "It is an example of what small Irish software companies can now achieve with the change in technology that facilitates the sale of products using web based tools whereas even ten years ago you would have had to have travelled to meet customers".
ThinScale Technical Director David Coombes added "With the proliferation of cloud technologies we will continue to see significant changes not only in the virtualization market place but also in how business is conducted in the future. We intend to be at the cutting edge of this for some time to come".
Following the company's success in the Fast 50, ThinScale Technology will now compete in the Deloitte Fast 500 EMEA competition results of which will be announced in Paris on December 7th.
For further enquires contact
James McCann ClearStory
Email: [email protected]
Ph: 085-7277344
O: 01-9610048
About the Deloitte Technology Fast 50 Programme
The Deloitte Technology Fast 50 awards rank Ireland's fastest growing technology companies. The awards recognise those companies that have demonstrated exceptional growth in turnover during the last four years.
This year marks the eighteenth year of the Fast 50 programme in Ireland. One of the longest standing technology contests in Ireland. The awards demonstrated the contribution of the indigenous technology sector – cumulatively, the 2016 Fast 50 winners generated approximately €1.6 billion in total annual revenues in 2015. The average revenue of companies featuring on the ranking was approx. €31 million, while the average growth rate of the companies over the last four years was 270%.
To enter the Fast 50 Awards, companies must meet the criteria listed below. Entries must be submitted electronically with the necessary supporting documents (audited financial statements).
Fast 50 awards category:
The company must have been in business for a minimum of four years with a turnover of at least €50,000 in 2013.
The company must be considered a technology company, which is defined as: – Developing or owning proprietary technology that contributes to a significant portion of the company's operating revenues – Producing technology – Manufacturing technology-related products – Being technology intensive, or using unique technology to solve problems – Devoting a high percentage of effort to technology R&D Using another company's technology or intellectual property in a unique way does not qualify.
Entrants can be public or private companies but the parent company must be headquartered in the Republic of Ireland or Northern Ireland. Subsidiaries or divisions of Irish or Northern Irish companies or multinational organisations do not qualify.
All submissions must be accompanied by signed accounts (pdf version) for the first and last financial year being measured in the competition. Unless a statutory exemption is being taken, these accounts must be unabbreviated and audited.
Silicon Valley Bank FinTech award
To be eligible to be considered for the FinTech award, entrants will be evaluated on various criteria over a three year period. The winner of this award will travel to Silicon Valley, USA on a trip tailored to suit their growth trajectory where they will meet with key investors, strategic partners and prospects.
Deloitte 2017 Multinational Patron award categories
Innovative New Technology Award in association with Google – This award is for the company that has created or introduced a new or innovative product or service to International markets that has helped grow their business over the last four years.
Export Award in association with Intel – This award rewards export based companies based on the percentage of exports, their export growth and their approach to exports.
Life Science Award in association with Medtronic – This award will be given to the Life Science company that demonstrates the highest level of investment as a percentage of turnover in research and development within their most recent year of trading.
Impact Award in association with PayPal – This award is for the company that has made the most significant impact within the current year. Companies will be given an opportunity to demonstrate how they have made an impact through their application.
Leading Female Award in association with Vodafone – This award will be given to a leading female in technology who has contributed to business growth within their organisation.