Secure & compliant BYOD for all endpoint environments
What is Secure Remote Worker?
A software-based solution that locks down a user's personal Windows device to deliver a secure and compliant BYOD workspace.
A secure, temporary workspace on any Windows device
When Secure Remote Worker is launched on the user's personal Windows device, the user is temporarily placed in a secure, isolated workspace session.
Lockdown policies are applied to this session and access to the underlying operating system is removed.
Once the user exits Secure Remote Worker, lockdown policies are removed and access to the underlying OS is restored.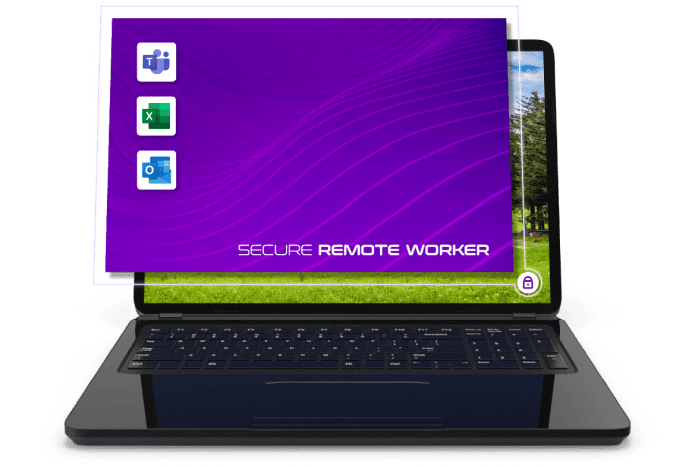 Employee launches secure, isolated, and IT-managed session on any personal Windows device, logging them out of their personal user profile.
Employee is logged into a corporate profile within a secure workspace with no admin privileges, where they access VDI / DaaS or local applications.
Apps, services, & URLs can be whitelisted or blacklisted within the secure workspace, preventing malware un-approved services from running.
All data created during the secure session is saved to a hidden, BitLocker encrypted temporary drive that cannot be read by unapproved processes.
Data Loss Prevention (DLP): infiltration and exfiltration of data is prohibited. Data can be set to self-delete post-session.
External USB storage devices can be blocked without stopping the use of other USB devices such as headphones or keyboards.
When the employee is finished working, they close the secure session and are logged back into their personal profile on the device exactly as it was.
Secure Remote Worker is compatible with major VDI / DaaS vendors
"If there is anything that has put our customers at ease I would say it's ThinScale and our partnership. We are installing Secure Remote Worker as our key security enforcement."
Frequently asked questions
Learn more about Secure Remote Worker
Compliance reports
All ThinScale solutions are regularly pen-tested and help maintain compliance with PCI DSS, HIPAA, and GDPR. Read our compliance reports from Coalfire.
Product information
Want to learn more about the product? Read our technical datasheet to understand the key features and benefits in more detail.
More use cases
What else can ThinScale do for you? Check out our full list of use cases.
Ready to see Secure Remote Worker in action?