Convert devices into centrally managed, secure thin clients
A Windows-based, software-defined, scalable PC to thin client conversion solution that delivers a unified end-user experience on all converted endpoints.
Secure thin clients for unified endpoint management
ThinKiosk installs on any device operating with Windows OS. It creates a secure, isolated shell that leverages Windows, but crucially blocks user-access to the underlying OS.
IT teams can then configure and enforce a strict security policy on each device, as well as push patches and updates for applications, firewalls, firmware, etc.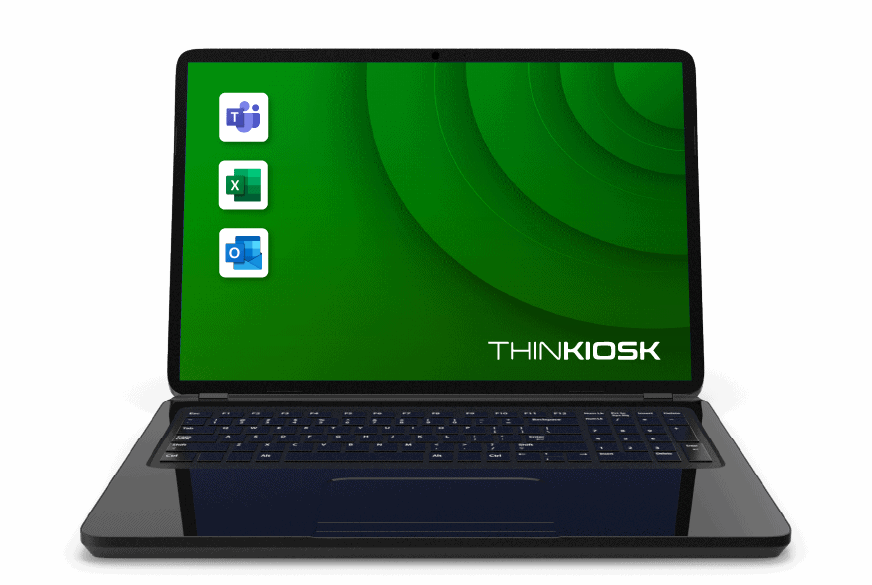 ThinScale's ThinKiosk installs on any supported Windows operating system and creates a new, isolated secure shell that blocks the underlying OS.
ThinKiosk enforces its own security policy (configurable by your IT team) and ensures that the devices are secure and compliant.
Anti-malware features, data leakage prevention, and authenticator integration align with best practices for Data Loss Prevention (DLP).
ThinScale Management Platform provides a unified view of each endpoint, with the ability to control, update and perform in-depth audits.
All data created during the secure session is saved to a hidden, bit-locker encrypted temporary drive that cannot be read by unapproved processes.
External USB storage devices can be blocked without stopping the use of other USB devices such as headphones or keyboards.
ThinKiosk is compatible with major VDI / DaaS vendors
"It used to take an hour and a half to configure a thin client with HP, but with ThinKiosk it takes about 2 minutes, even if you have the write filter enabled".
Compliance reports
All ThinScale solutions are regularly pen-tested and help maintain compliance with PCI DSS, HIPAA, and GDPR. Read our compliance reports from Coalfire.
Product information
Want to learn more about the product? Read our technical datasheet to understand the key features and benefits in more detail.
More use cases
What else can ThinScale do for you? Check out our full list of use cases.
Ready to see ThinKiosk in action?