Hello all!
Happy to announce the launch of ThinKiosk and Secure Remote Worker 6.0, both of which come packed with new features we've been hard at work on and much requested by our customers and their users. In this update we have introduced convenience for administrators In this post we are going to be going through the major updates in this release.
Chromium support
We have added the ability to choose between chromium embedded and internet explorer engines for our in-built secure browser.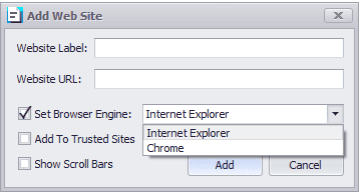 Whereas before to use a Chromium browser, you would need to supply it as published app or pass it through as a local application, wherein you would lose the functionality and control that our previously IE based secure browser gives you.
With ThinKiosk and Secure Remote Worker, you now have more options in your users' secure browsing experience. With recent revelations and limitations of Internet Explorers's engine, we are sure this would be of interest to anyone who is wanting to beef up their browser security, or if your security compliance requires chromium based browsers.
System Tray integration
Taking full advantage of the Windows OS ThinKiosk and Secure Remote Worker sits upon, we have given you the option to present the local device's system tray in the ThinKiosk UI, showing active applications, the clock, notifications and more. This further enhances user experience on client devices, giving user familiarity through a windows-like experience.

Any local applications that support system tray icons will appear in our tray
Powershell Module
We have updated our existing Powershell Module, originally written by the illustrious Guy Leech. The module is now based on C#, making any kind of task you are hoping to run with Powershell much easier to use.

Now administrators will be able to speed up their work with an easier to use Powershell tool. To assist with the speed and help any troubleshooting we have also added an entire new section devoted to our Powershell module into the ThinScale Knowledge base where you can find Cmdlets for the multiple actions that you can perform within your ThinScale environment using the Powershell Module.
Remote disable and uninstall
Do you have remote workers who are on specific hours that you don't want online outside of their shift, or potentially you have users on holiday and for security reasons want to block their device from the management console? You are now able to disable machines within your environment running ThinKiosk or Secure Remote Worker. Allowing you full control over your environment and it's accessibility.
ThinKiosk and Secure Remote Worker now also support the remote uninstall of clients from your machines using the ThinScale Management Platform. Making any rollback or transfer of license a much easier process.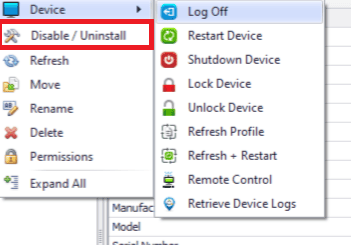 All of these new features are available now in both ThinKiosk and Secure Remote Worker 6.0 – To read about another feature that is exclusive to Secure Remote Worker, read our blog on our new Write Filter, now released for Secure Remote Worker as part of our 6.0 update.
To see more details about the 6.0 release feel free to check out our Product Updates section in the ThinScale Knowledge base.