Virtual Resource Optimization​
Resource contention is a major issue for virtual and remote desktop deployments.
IT teams must balance the user density of the users on a server, and the experience that server's resources can provide.
ThinScale enables you to optimize usage of virtual & remote desktop resources to improve performance.
An intelligent, enterprise resource management and optimization solution for desktop infrastructure resources. It re-distributes resources when and where they are needed across your server's user-base.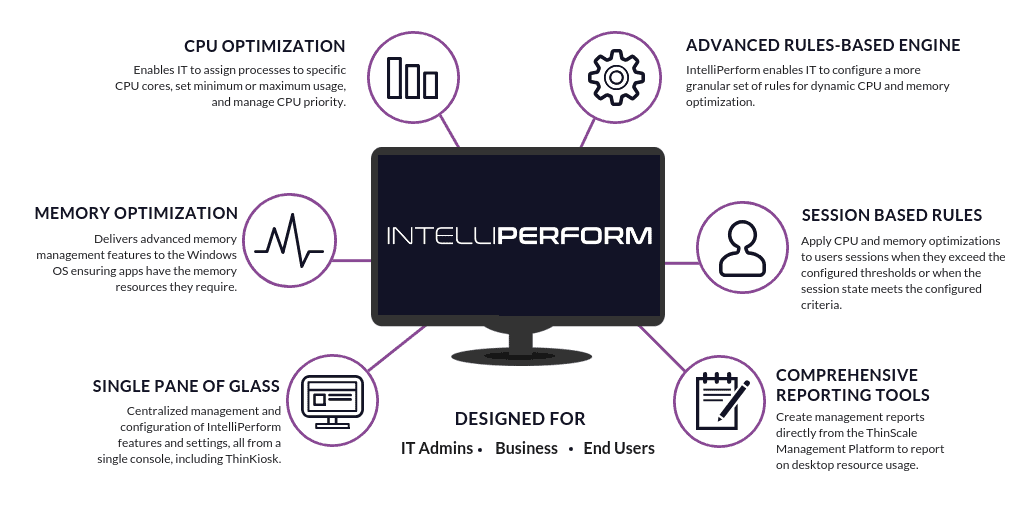 How does ThinScale deliver virtual resource optimization?
Dynamically optimize resources by ensuring no single application, user, or website, maximizes the resource capability of the virtual infrastructure.
Define granular rules for CPU and memory utilization, ensuring users only receive the network resources they need.
IT admins can monitor resource usage in real time and quickly configure and deploy optimization rules as needed.
Frequently asked questions
Learn more about our virtual resource optimization solution
The solution is installed on your main virtual/remote server. Here it will apply IT-configured rules to manage the resources on that server.
On average, it has been shown to increase server density by 33%, however, this is dependent on your current density and what applications you are attempting to control.
Achieve so much more with ThinScale
Secure access to VDI / DaaS
Virtual desktops are vulnerable to threats on the endpoint itself like keyloggers and screen-scrapers. We make them secure.
Reduce need to re-image
Update endpoint deployments with new policies, permissions, and software from a centralized IT management console.
Unified endpoint management
Configure and manage your entire estate from a single pane of glass, push patches and updates when available, and more.
Device analytics
Get real-time data on key performance metrics to identify and resolve device issues faster than ever, especially for a WFH/hybrid workforce.
Compliance reports
All ThinScale solutions are regularly pen-tested and help maintain compliance with PCI DSS, HIPAA, and GDPR. Read our compliance reports from Coalfire.
Product information
Want to learn more about the product? Read our technical datasheet to understand the key features and benefits in more detail.
More use cases
What else can ThinScale do for you? Check out our full list of use cases.
Ready to see ThinScale in action?