A thin client is a lightweight endpoint designed to facilitate connection to a server-based environment, where most of the typical computing is done by the server. Thin clients are a great way to simplify your IT architecture and improve security. However, the hardware itself does have its limitations in terms of versatility. A thin client device really cannot perform any other function outside of making that connection to a remote environment. In reality, the requirements of end-users and administrators can extend well beyond this, needing a more flexible endpoint solution.
ThinKiosk has established itself as a secure, lightweight and versatile thin client alternative that can accommodate any use case, from simply acting as a secure connection to a VDI to facilitating multiple brokers and multiple applications as a full, scalable Enterprise solution.
That being said, I thought it would be good to showcase some of the features and functionalities that make it such a flexible and accommodating solution. I'll be going through the various deployment options ThinKiosk makes available as well as key features that make it both a convenient and versatile platform.
1. Any Endpoint
As the access point to your virtual environment, the endpoint is one of the most important factors to consider in setting up a virtualized environment. One of the reasons you might have gone down the virtualization route is to reduce security risks so it needs to be secure but at the same time, you don't want to introduce a brand new desktop experience to your end-users, so it needs to be familiar.
If you have decided to go down the thin client route for your endpoints, you will likely come across two choices, hardware or software-defined thin clients.
As the first Windows-based hardware-defined thin client, ThinKiosk has been built from the get-go with total Windows functionality in mind and can run on any x64/x86 Windows hardware. It provides enterprise-level security and powerful management capability to the endpoints and administration in your virtual environment, all while keeping that essential experience that users are familiar with (due to the shell itself being Windows-based) and it works with a wide range of devices including:
PC
What is often seen when customers are moving to a thin client solution is the worry that they are not only wasting perfectly good PC's but often, technically downgrading in terms of device resources.
ThinKiosk is at its core a complete conversion suite for Windows devices, turning them from "fat clients" into secure, centrally managed thin clients. By converting your existing PC's instead of disposing of them and purchasing new thin clients, you not only increase the ROI of your current environment, but it also allows you to utilize the existing power of the machine if needed. Especially handy where high-speed video quality playback or resource-intensive applications are required.
Laptop
Mobile thin clients are increasing in popularity; however, they are very dependent on their pre-set network environment, meaning extra setup needed for mobile workers (WLAN/Mobile Data and web browser access) and complete shutdown should the network go down. Converting a laptop with ThinKiosk will provide users with all the functionality of mobile thin clients for use both on and off-premises scenarios, while still allowing users the option working on or offline. With the standard Wi-Fi and battery indicators passed through to the ThinKiosk shell, the user has the full mobile experience while working within a secure, custom environment.
These mobile thin clients can also be centrally managed and updated using the ThinScale Management Console.
Thin client
User experience is of vital importance when considering an endpoint for your virtual environment, however with standard hardware thin clients, you are often limited in terms of design and control of end-user experience up to the point you enter your virtual desktop/remote session.
ThinKiosk can even be used in conjunction with hardware thin clients. Not only allowing you to completely customize your end-user's experience but ensuring that experience remains the same across a mixed environment.
With one of the easiest to use and most powerful management platforms on the market, ThinKiosk makes the actual management for thin clients easier.
ThinKiosk on top of a hardware thin client will add a secure shell with a customizable UI to access remote desktops, apps and a secure browser to any thin client.
2. Transferable licenses
One of the major benefits of having a software-defined thin client over standard hardware thin clients is the ability to move to different devices.
ThinKiosk licenses are as flexible as the solution itself. Should a device break down or a whole suite of devices be changed, ThinKiosk will provide users with the exact same user experience as they were used to on the previous machine.
Taking it a step further, ThinKiosk licenses are not designated to use the MAC address of the endpoint, rather ThinKiosk licenses are dictated by the license key itself. For this reason, licenses are free to move between devices. All an admin must do is delete the device being replaced from the management console and re-deploy ThinKiosk to the new device.

3. Rollback
That being said, with the benefit of transferring licenses across devices comes the ugly question of what you do with the device left behind? Most software-defined thin clients will remove the existing OS and replace it with their own. If the device is not damaged or too old then you are wasting a perfectly good machine.
Unlike some other software-defined thin client solutions, ThinKiosk does not wipe the underlying OS, meaning if the license is transferred you are not left with a bare machine, you still have a fully functional Windows device.
4. Deployment
When deploying ThinKiosk you have two main options when deciding the overall way your users are locked in. You can deploy using the ThinKiosk shell, giving you absolute control over your entire end-user's experience, keeping them locked down and out of Windows Explorer and away from the local OS aside from the applications and drives you want to give users access to.

Alternatively, you can allow them to launch it within the Windows shell, as a standard Windows application, giving them access to their local Windows OS while still managing them centrally using the ThinScale Management Server.
5. Maintenance
A common fear when deploying a Windows-based solution is that despite the ease of management and compatibility, they still need to deal with standard maintenance of Windows which can be tedious.
However, with ThinKiosk, you have complete control over Windows maintenance through Windows Patch Management, Firewall Control, and Security Centre Detection. Not only specifying rules to deal with these Windows functions (if you want these functions to run at all) but also allowing admins to control how ThinKiosk reacts to these rules and if/how end-users are presented with notifications based on these rules.
6. Any Vendor
Virtual Desktop solutions are not cheap, and it is at this back-end where a lot of the major cost occurs when setting up your environment. For this reason, of course, you want to make sure you are using the best vendor for your needs. Your endpoint should not be dependent on one provider for this reason.
ThinKiosk supports almost any vendor and includes integrated connection options for Citrix Storefront, Microsoft RDS, Amazon Workspace and VMware Horizon.
Whether it be a connection through its Secure Browser, or giving users access to an application, ThinKiosk can facilitate access to any virtual environment.
7. Hardware options
We commonly hear of one of the major annoyances of many thin client solutions is the lack of support or conveniences most end-users are used to, such as support for multiple monitors.
Alongside having the option of multiple monitors if needed; most display, sound and keyboard controls are all easily accessible within ThinKiosk.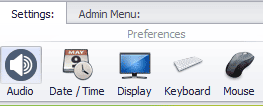 However, admins have the choice of whether or not end-users even see these options.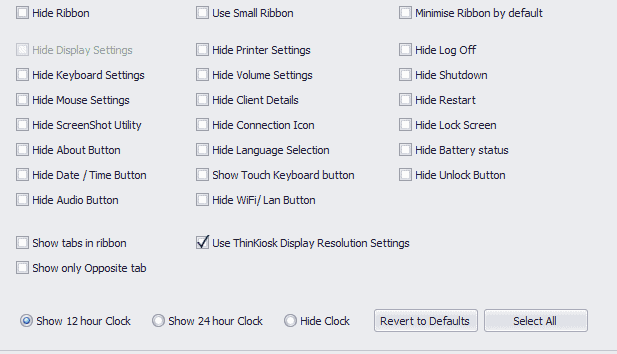 8. Drivers and printing
Another common area that causes issues when moving to thin clients (especially when Linux based) is compatibility with standard drivers. As ThinKiosk runs on the underlying Windows OS, all the normal drivers that worked previously will still work on an endpoint running ThinKiosk.
This benefit extends to local/ network printing for the same reason, with ThinKiosk, your users can still access all local printers installed on the device. Eliminating the need to work with more 3rd party solutions just to access your printers.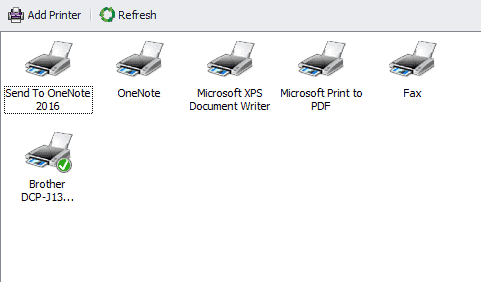 ThinKiosk is fully functional with all the standard Windows compatibilities and conveniences.
9. Application options
ThinKiosk's versatility also comes into play when looking at the multiple options admins have to present end-users with their applications.
Elaborating further on what was mentioned in point 6, ThinKiosk also allows you to present remote applications right from your virtual desktop/remote desktop to be accessed from the ThinKiosk desktop. You also have the option of passing through any local application to be accessed securely by ThinKiosk, similar to how ThinKiosk handles drivers, ThinKiosk is functional with any Windows-based application.
10. Security
As one of the most important areas of a thin client solution, it makes sense that it should also be one of the areas you have the most control over. With ThinKiosk you have complete control over the level of security you want to apply to users at both a high level and individual endpoint level.

Block USB mass storage devices at the driver level, while still allowing users to utilize USB devices.

Allow or Deny the running of any process, these processes can be either specified directly or selected depending on configurable rules.

Or a similar vein to above, specify which Windows services to stop or what services to select based on configurable rules.
ThinKiosk itself can be tailored to fit pretty much any use-case; however, we believe the best way to see how it can suit your environment is by trying it yourself! Click here to jump into a free trial of ThinKiosk.
Peter Corish
Business Solutions Executive – https://www.linkedin.com/in/petercorish/
Phone: +353 87 627 8237
E-mail: [email protected]