The ThinScale team is California bound for the Citrix Synergy event starting on May 8th. This annual virtualization pilgrimage brings together experts and thought leaders who are changing the modern digital workplace.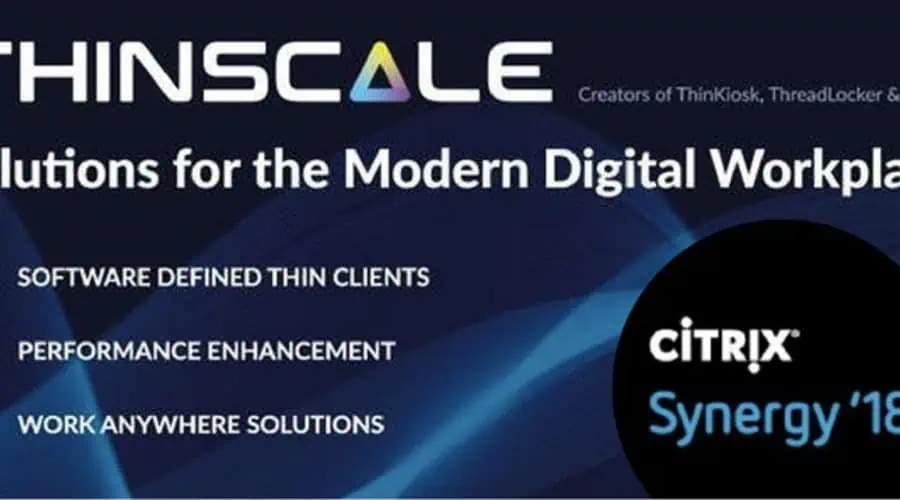 Attending for the 4th time
This year we are proud to be a Silver Sponsor, and to be attending for the 4th time, showcasing what we do at ThinScale and how our innovations help deliver competitive advantage for our customers. This year we will be showcasing the latest release of ThinKiosk, version 5.1 which includes Secure Remote Worker, a feature that is a must have for any enterprise that is looking to embrace BYOD and remote or home working. Secure Remote Worker allows an end user to switch between their personal environment and their corporate workspace environment securely, all without the need to reboot, dual-boot, or boot from an external USB device.
New version of ThreadLocker launches
We will also be launching the latest version of ThreadLocker, our CPU optimization software. In this release we've included a new configuration engine as well as some innovative new features which allow settings to be configured on a per rule basis and for specific individuals or groups to be included or excluded. This allows you to for example, to anticipate busy periods within a business where certain users for eg finance, might need extra CPU and to ensure that this is prioritized.
We've rebranded
We will also be revealing a whole new look for ThinScale for Citrix Synergy 2018 as we completely re-brand so visitors will experience a different looking ThinScale to previous years. This rebrand is a reflection of our journey and growth to date and the direction in which the company is going. It signifies a key milestone for ThinScale, 5 years on from the release of ThinKiosk and represents the innovation and continued growth that the company has achieved.
Watch our latest video.